When we set out a year ago, no one could have imagined that in 2012, 24 million Internet users would emerge as THE political force to be reckoned with. Check out this impressive list of wins!
October 19, 2011
FFTF launches first campaign: FreeBieber.org to stop Senate bill 978.The bill would have made it a felony to post YouTube cover songs, with up to five years in prison. The campaign prompts 200,000 petition signers, 50,000 Facebook likes, coverage in hundreds of news and blog articles, including the Colbert Report, and the outcry of Justin Bieber himself. The 'Bieber Bill,' as it soon came to be known, was never voted on..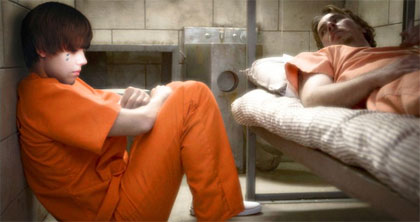 November 16 2011
American Censorship Day is held on the date of the first SOPA (Stop Online Piracy Act) hearing. The bill, together with the Senate's Protect-IP Act (PIPA) faced minimal public resistance despite the fact that they could be used to censor or shut down any website. In protest, over 6,000 websites agree to use our "stop SOPA censorship" widget to black out their logo. The campaign generated over two million petition signers, one million emails and 84,000 calls to Congress.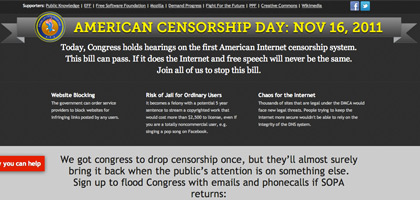 December 22, 2011
We build Godaddyboycott.org for reddit's protest against then-SOPA supporter, GoDaddy. Over 80,000 domain names are transferred from the world's largest domain registrar in a matter of days. Less than a week later GoDaddy withdraws their support.
January 5 -18, 2011
FFTF partners with Public Knowledge to organize over 50 in-person meetings with members of Congress over the January recess. Senators begin to rescind their support for PIPA, citing discussion with their constituents as a reason. President Obama comes out against SOPA.
January 18, 2012
Web Goes on Strike: Largest Online Protest in History. Over 115,000 websites partially or fully black out their sites — including Google, Reddit, Craigslist, Wikipedia, Wordpress, Pinterest, Flickr and Amazon. The protest, viewed by over one billion people, triggers 10 million petition signers, 3 million emails, 100,000+ calls; 3 million+ tweets; and thousands protest outside senators' offices.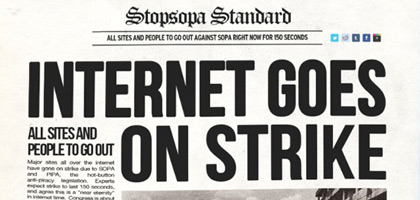 January 20, 2012
January 26, 2012 April 2012
On the heels of SOPA defeat, hundreds of protests explode over Europe to protest Anti-Counterfeiting Trade Agreement (ACTA) — 'Europe's SOPA'. FFTF builds an international tool to support activists around the world to push back on the Agreement.
March - June 2012
The Obama administration's attempt to revive SOPA legislation is visited with FFTF's ObamasInternet.com. The campaign generates 80,000+ emails, pushing back on any new SOPA-like legislation.
June -August 2, 2012
Cyber Intelligence Sharing and Protection Act of 2011 (CISPA) defeated after our DoYouHaveaSecret.org site drives thousands of emails and phone calls to Congress. The bill, which was ostensibly directed to prevent threats to cybersecurity, was written so broadly that it could easily be used for government spying and censorship.
July 4, 2012
ACTA is defeated.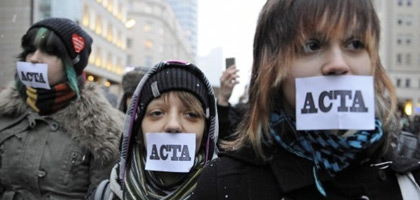 July 21, 2012
Internet Defense League is born out of the SOPA Strike. FFTF creates a permanent force that can broadcast action messages across the web when a threat or opportunity for the web arises.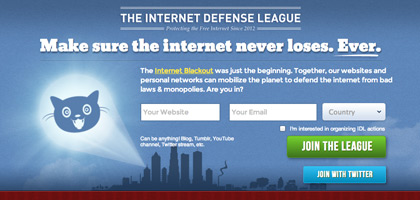 September 25, 2012
Center for Rights hosts first inaugural Internet Voter Registration Day with Personal Democracy Media. Our "Vote with Friends" tool empowers Internet users to become powerful Get-Out-The-Vote machines.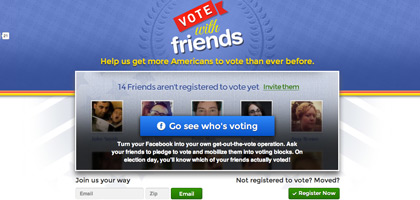 November 4, 2012
Center for Rights launches YourExcuseSucks, a social voting app and website that uses peer pressure and accountability to encourage voting.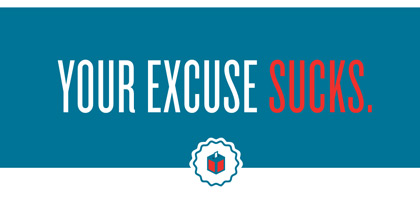 November 29, 2011
Senate Judiciary Committee votes to update the Electronic Communications Privacy Act (ECPA). More than 10,000 people use tools at VanishingRights.com to demand that Congress update the outdated existing law which allowed police to spy on email without a warrant.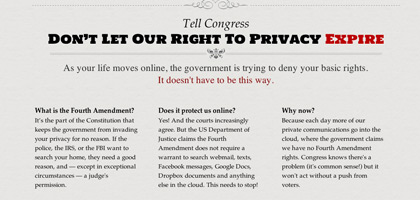 December 14, 2012
ITU meetings end in disarray after Fight for the Future, Avaaz, and a broad coalition of NGOs deliver over 1 million signatures to delegates at their annual gathering. Public outcry from our WhatistheITU.com campaign with Access brought international focus on the ITU and a proposed treaty that would move Internet governance to a top-down United Nations agency that operates behind closed doors and under corporate influence. Ultimately, 61 of 150 nations rejected the agreement and refused to sign.